iCustodianTM
iCustodian is a solution to day to day fuel theft, that achieves this by fitting patented logically designed field tested equipment, which is unrivalled in the market. The prevention of theft is done by addressing the whole fuel system from fuel cap, pick-up, sump plugs and even fuel lines.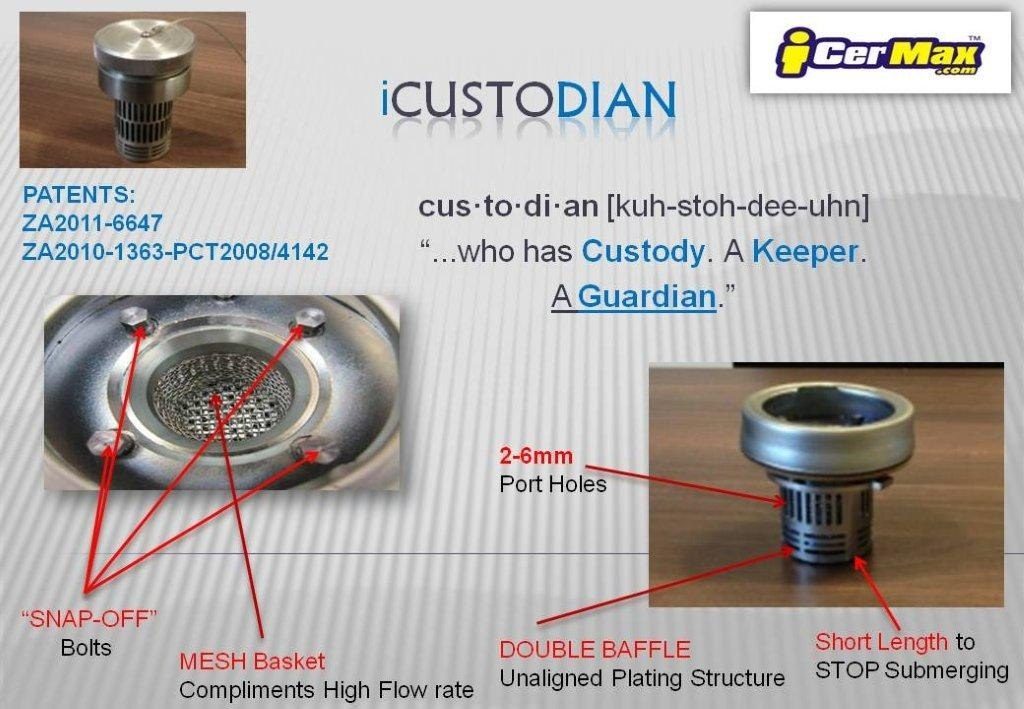 The general market uses a single plate system, which is not effective, even a double plate system with the wrong lengths as commonly seen in the market too are ineffective. Other devices use honeycomb holes, round holes or even slots that don't work. The iCustodian incorporates a double baffle plate system with a unique hole system to allow flow, whilst preventing any means of gaining access to the tank.
With this device it is totally impossible to access the fuel without physically attacking the robust device itself. The devices too has a stainless steel mesh insert, which not only increases the security offered, but too acts a s filter for large contaminants, without compromising the flow rate.
Devices are available for all makes of trucks, yellow goods, large or small bakkies, construction equipment, tractors, generators and bulk fuel tanks. Fitments are customized to whatever is specifically required as well as installation being done professionally and capable of being done on a national fleet scale.

The iCustodian is forwarded as an item that uses quality materials and has been engineered to be a market leader far superior to cheap imitations. These imitations are far less effective and will cost you not only their purchase price, but still major expenses in fuel losses, which as fuel is becoming a costly commodity, may become a haemorrhaging expense.